Buckethead is a mysterious guitarist who is known for his unique stage persona and amazing musical ability. His virtuosic skills and unique style have wowed audiences. This mysterious artist, who was born Brian Patrick Carroll, has built up a large fan base throughout his work.
Both fans and critics are amazed by his incredible talent. As Buckethead's fame has continued to soar, many wonder about his financial success and net worth.
Here, WCNetworth delves into Buckethead net worth, exploring his career achievements and the factors contributing to his wealth. Join us as we uncover this guitar virtuoso's financial legacy and the secrets behind his impressive net worth.
What is Buckethead's Net Worth and Salary in 2023?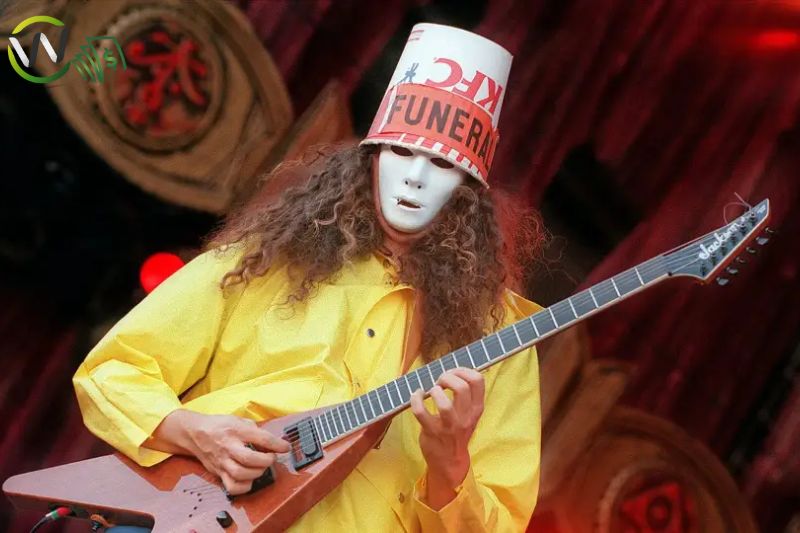 Buckethead is a famous musician from Southern California who is known for his unusual look. He wears a KFC bucket on his head and a mask based on the character Michael Myers from a horror movie.
As of 2023, Buckethead's successful work as a musician, songwriter, and instrumentalist. This has given him an estimated net worth of $4 million.
He has released over 300 solo albums, including 272 Pike albums, and has collaborated with artists such as
Buckethead was also a Guns N' Roses member from 2000 to 2004.
Buckethead Overview: Why is Buckethead Famous?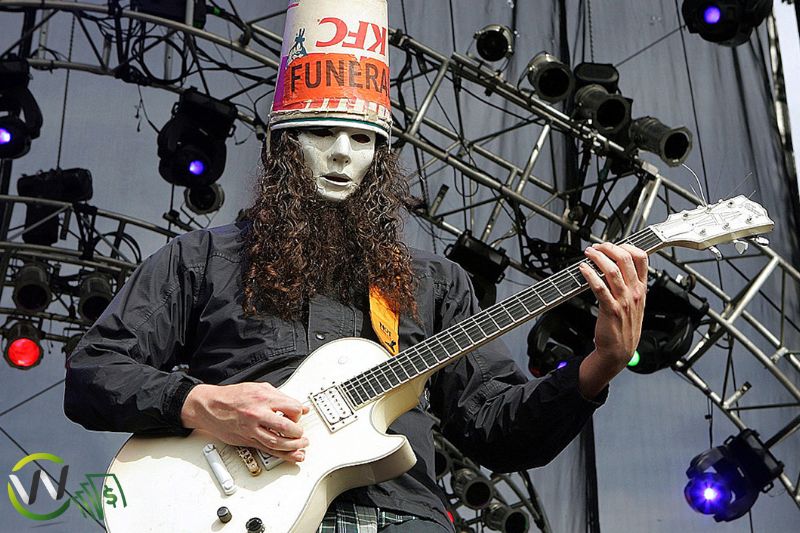 Early Life and Career Beginnings
Buckethead was born Brian Patrick Carroll on May 13, 1969 in a suburb near Disneyland. He was an introverted child who spent most of his time in his room surrounded by:
He also frequented Disneyland, visiting the park over 500 times.
Carroll began playing guitar at 12, learning from various teachers at a local music store. His early teachers included:
In 1988, Carroll became Buckethead after watching Halloween 4: The Return of Michael Myers and buying a white mask like the characters. The bucket idea came later that night while eating chicken.
In 1988, Carroll put a song called Brazos into a contest held by Guitar Player magazine. The song came in second place and caught the attention of the magazine editor, Jas Obrecht. This led to a friendship between the two, with Buckethead eventually moving into Obrecht's basement in 1991.
Praxis and Further Albums
Buckethead, the alter ego of guitarist Brian Patrick Carroll, joined the experimental rock project Praxis in the early 1990s. Led by producer and bassist Bill Laswell, the band featured a rotating roster of musicians, including:
Drummer Brain
Keyboardist Bernie Worrell
Bassist Bootsy Collins
Praxis combined elements of various musical genres such as funk, jazz, hip-hop, and heavy metal, into highly improvised music.
Their debut album, Transmutation (Mutatis Mutandis), released in 1992, was well-received by critics.
Over the years, the band released several albums, including:
Despite Buckethead's departure from Guns N' Roses in 2003, he collaborated with Praxis. Even, He reunited with Bill Laswell and Brain for two shows in New York in 2022.
Solo Work and Tours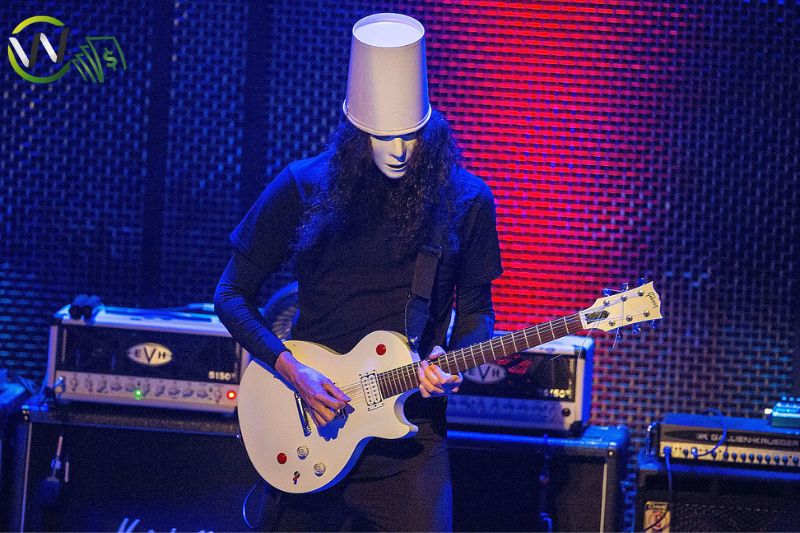 Throughout his solo career, he has released an impressive 435 studio albums, including the popular:
His work spans various genres, such as:
Buckethead has also been involved in numerous tours as a solo artist and collaborating with other musicians.
In August 2017, he revealed his fall US tour. It happened in September and October, Bryan Brain Mantia on drums and Dan Monti on bass were in his live band.
Movie Soundtracks
Some notable films featuring his music include:
Mortal Kombat: Annihilation
Additionally, he contributed lead guitar to the track Firebird on the Mighty Morphin Power Rangers: The Movie soundtrack.
Influences
A diverse range of artists and genres has influenced Buckethead. Some of his most notable musical influences include:
Buckethead also gets ideas from things that aren't music, such as martial arts movies, comic books, scary movies, and Disneyland.
FAQs about Buckethead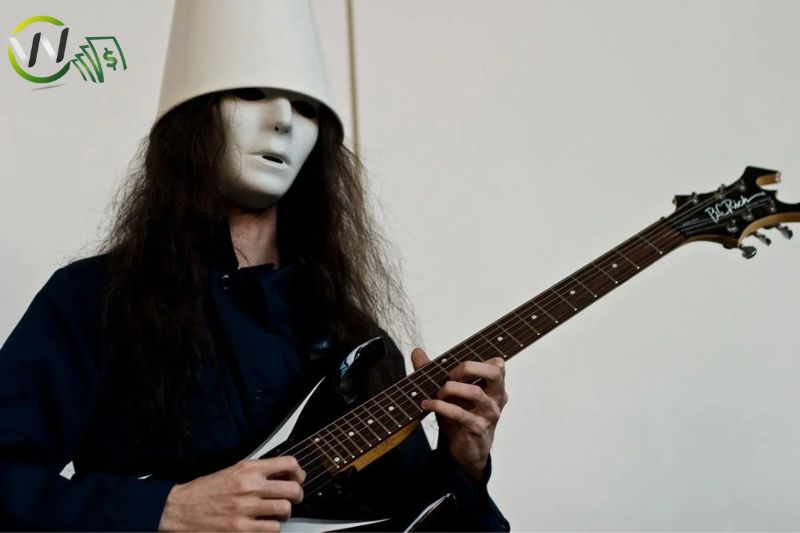 What is Buckethead's connection to Guns N' Roses?
Buckethead served as the lead guitarist for Guns N' Roses from 2000 to 2004.
Is Buckethead really good?
Buckethead is the best guitarist of all time. This is because of his amazing skill, wide range of styles, and unmatched technique.
Why isn't Buckethead more famous?
Buckethead isn't well-known because he needs to make music that sells well. Also, he plays acoustic music, which is more challenging to recognize.
Has Buckethead ever been unmasked?
On the cover of Pike 13 is a picture of Buckethead without his mask. This is the first time a picture like this has been shown to the public. The cover of Pike 13 doesn't have any of the usual parts of the Pikes series. Instead, it's just a picture of Buckethead as a teenager holding an acoustic guitar and hugging his dad.
What is Joe Satriani net worth?
Joe Satriani's net worth is estimated to be around $12 million. Joe Satriani is a famous American guitarist and instrumental rock maestro. His technical skill and melodic songs have made him famous worldwide.
Conclusion
Buckethead's net worth stands as a testament to his extraordinary talent and enduring popularity. Buckethead has expanded his brand beyond traditional music through various musical projects, commercial sales, and live events. His hard work and dedication to his craft have undoubtedly contributed to his financial success and sizable net worth.
Buckethead's property will likely grow as he continues to mesmerize audiences and push the limits of guitar playing. This will cement his place as one of our time's most mysterious and financially successful artists.